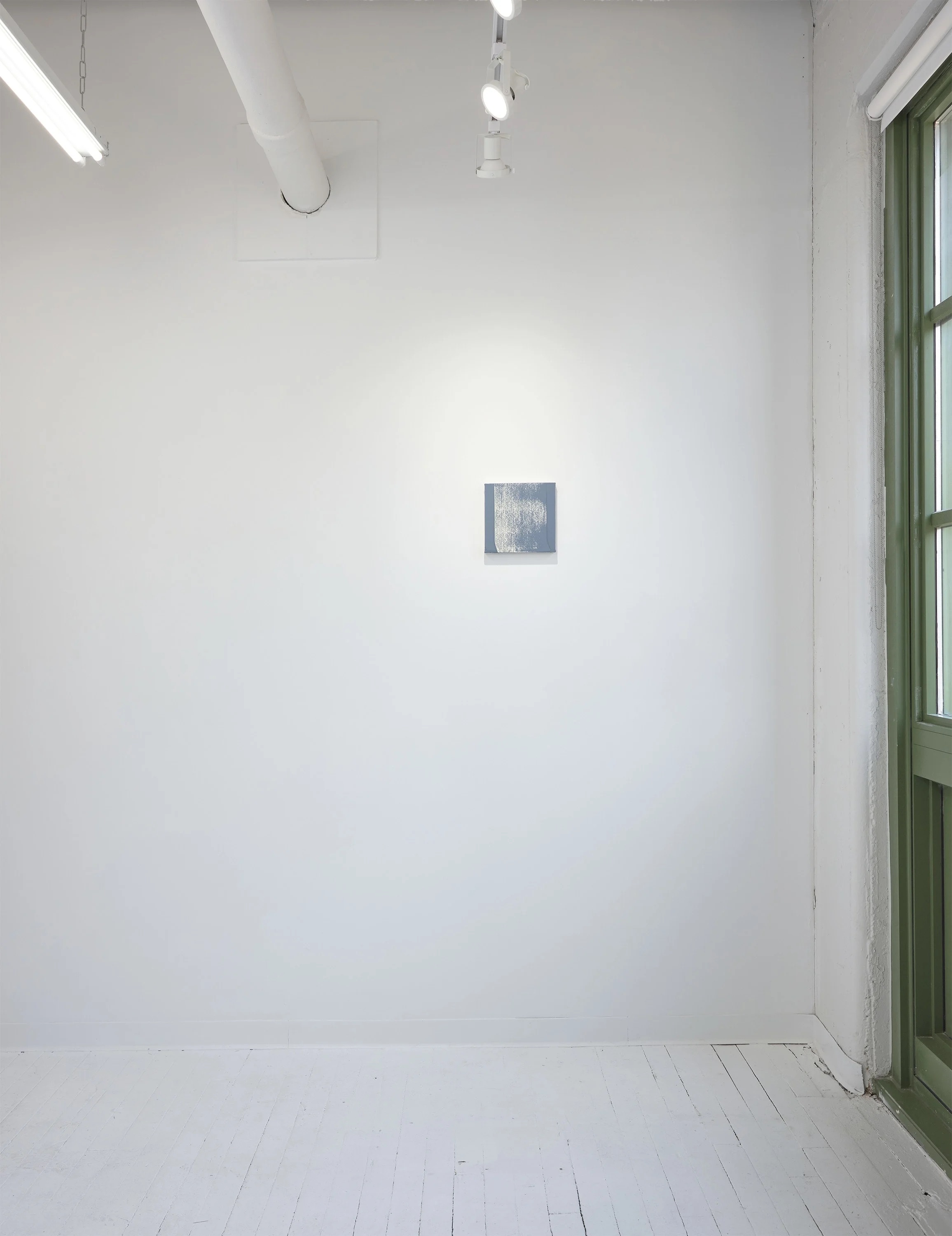 GJ Kimsunken, YI GALLERY. Installation view rear gallery.
July 23 through September 10, 2022
The term minimal – or Minimalist – is a convenient one, but often falls short of what an artist's work is really about. From a historical point of view, it is reminiscent of the situation confronting painters, such as Robert Ryman and Ad Reinhardt, who were tagged in similar ways sixty years earlier. Both were painters, to be sure – but Minimal? That was another issue, one that neither artist felt he could embrace. Despite Donald Judd's assertion that painting was exempt from Minimal Art, reviewers would continue to refer mistakenly to what they called "Minimal Painting." In some ways, the issue was more about the presence (or absence) of three-dimensional objecthood in relation to three-dimensional space, which did not include the painted surface. Many of these issues enter into the recent work of GJ Kimsunken who rejects the formal categorical imperatives that exist outside a direct reference to the human body.
From a current-day context, GJ Kimsunken's understanding of presence and absence are comprised as a binary relationship, rather than being separated one from the other. As for the term "minimal", it is prescribed as an indication of how his work appears rather than how it functions. While the categories of art-making are not as rigid as they once were, Minimal Art – from the perspective of a younger generation of artists – continues to hold a fascination for several reasons, one of which is in opposition to the lingering expressionism that keeps reappearing in New York galleries as if that era was exempt from the art history of the previous century.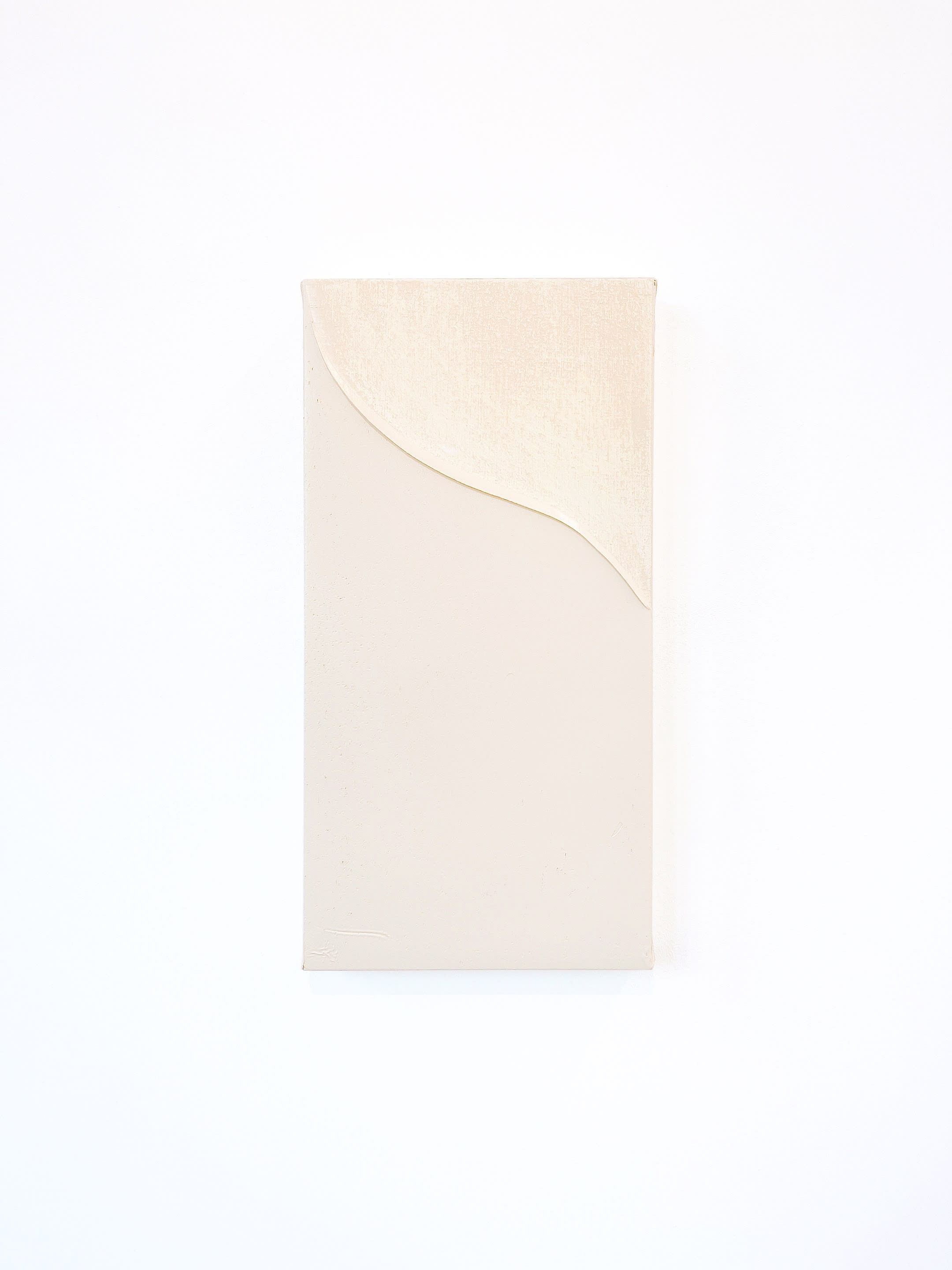 GJ Kimsunken, Figuration 22. 13 (shoulder), 2022, Oil on canvas, 19 1.2 x 10 in.
For Kimsunken, the issues appear more consciously contained. Anyone who has taken the time to visit Yi Gallery and carefully examine these relatively monochromatic paintings – collectively titled
Figuration
– will undoubtedly have a more likely grasp concerning these issues rather than trying to disassemble them virtually. Kimsunken's work is elegant, to be sure, as it is equally reserved. In essence, his paintings are geometrically reduced while at the same time focusing directly on the body, beginning with the artist's own body. Here I would refrain from delimiting Kimsunken's work as a form of abstract portraiture. This is not what his work is striving to achieve. Rather one might understand his paintings – dutifully painted, surface upon surface, with oil pigment – as having a holistically reference to the body, which includes a material exchange capable of sensing the body as an attribute of how the artist thinks and feels.
There are no additions to this work other than the presence and absence of the work itself. In the process of coming to terms with these paintings, there is a kind of reformation in which the artist excels in accordance with his existence. His work is an open door, perhaps a reminder of the past. There is a recumbency of delay in these paintings, a cosmos of astral attentiveness in which the artist enters – if just for a moment – the space of revival. These paintings are removed from the present – independent of forced habit. They hold a sense of being in the realm of absence, a kind of resemblance that remains in parallel focus. They give us an awakening that reminds us of the other, the one who lives inside each of us — whoever we think we are, the figuration of our being.
WM
ROBERT C. MORGAN
Robert C. Morgan
is an educator, art historian, critic, poet, and artist. Knowledgeable in the history and aesthetics of both Western and Asian art, Morgan has lectured widely, written hundreds of critical essays (translated into twenty languages), published monographs and books, and curated numerous exhibitions. He has written reviews for
Art in America
,
Arts
,
Art News
,
Art Press
(Paris),
Sculpture Magazine
,
The Brooklyn Rail
, and
Hyperallergic
. His catalog essays have been published by Gagosian, Pace, Sperone Westwater, Van Doren Waxter, White Cube (London), Kukje (Seoul), Malingue (Hong Kong), and Ink Studio (Beijing). Since 2010, he has been New York Editor for
Asian Art News
and
World Sculpture News
, both published in Hong Kong. He teaches in the Graduate Fine Arts Program at Pratt Institute as an Adjunct Professor and at the School of Visual Arts.