Contributed by Michael Brennan

I first saw GJ Kimsunken's work in person last fall in an exhibition at Yi Gallery titled "Where We Meet Ourselves." Sensibly pairing his paintings with Debra Ramsay's, the two-person exhibition mainly investigated light and materiality. With his solo exhibition "Figuration," the gallery, which is in the emerging art corridor of Industry City in South Brooklyn, has mounted another striking and sensitive show, making optimal use of its studio-sized space. Kimsunken has largely maintained his method and approach while illuminating the substantive inflection and character of his work.


Analytically, abstract painting is starkly distinct from figuration. Yet there are numerous historical examples of their intersection. The influence of Yvonne Rainer's choreography on the haptic and structural aspects of Richard Serra's minimalism is well known. Even so, monochrome abstraction like Kimsunken's remains an improbable vehicle for exploring the body, which logically would seem to lead an artist away from a reductive planar practice and the purity of geometric form – in short, the entire abstract orthodoxy. Yet Kimsunken's paintings clearly reference the body, and do so enlighteningly.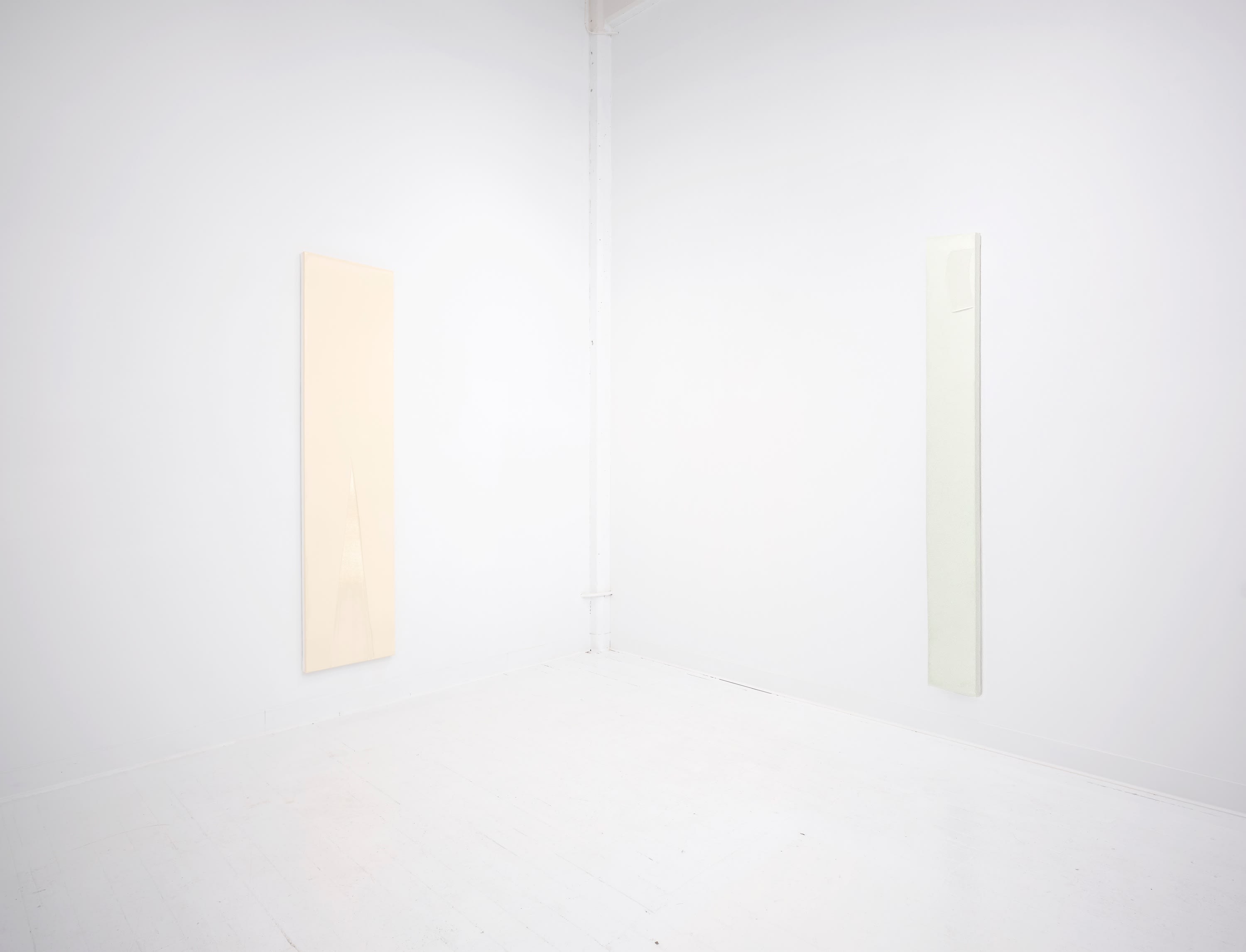 Scale, color, and of course shape play a significant role here. The front gallery includes three large vertical paintings. They're human-scaled, 71 inches tall – Kimsunken's height – standing alone wall to wall, as people might. They make a handsome, if somewhat subdued, trio. Paint is pulled in small sections, which function as revelations of character. Abstract painters like John Zinsser and Jakob Gasteiger have long employed scraping as a technique, but they scrape in quotations, as it were, removing paint as a comment on the language and vocabulary of painting itself. Kimsunken's aim is more personal and cosmetic, like the lifting of skin.


His color is associative rather than literal, perhaps to indicate shifting moods or states of being. The finely layered oil paint feels thicker than it physically is. His paint handling manifests impressive control over drag, surface tone, and atmospheric color. One thin vertical painting, Figuration 22.18, is the palest of yellows, nearly white, and extraordinarily bright, sometimes flickering green with a hint of soft pinky orange from scraped gesso. This piece jumps from a wall painted with Benjamin Moore "Decorator White," whose drop of black softly darkens the background. Such color effects can be fully appreciated only in person; a reproduction cannot impart the full chromatic range of pigment, nor the surfaces' subtle texture. Moreover, mere images on a screen cannot conjure the communal ambience of the gallery space. This exhibition is essentially about presence and absence in a social context, and is therefore acutely situational.


In addition to the three large paintings in the front gallery, three smaller ones are hung in the back. These offer an entirely different kind of engagement with the body, closer to dismemberment, but in an intuitive and non-gruesome manner, like X-rays arrayed in a doctor's office. Sections of the body – a floating head and face, legs drifting akimbo, and a gently scraped scapular backside – are represented in isolation. The work in the front and back spaces is thus mildly divergent. Crafted with humane precision attuned to minute imperfections, two of the smaller paintings have a skin-like color, and all three are thick in texture, succulently layered. These qualities gently reinforce the implication of bodily presence, which Kimsunken examines with subtlety and grace.


"GJ Kimsunken – Figuration," Yi Gallery, 254 36th Street, Suite B634, Brooklyn, NY. Through September 10, 2022.


About the author: Michael Brennan is a Brooklyn based painter who writes on art.