Art Spiel in Dialogue with Cecilia Zhang Jalboukh, founder of Yi Gallery in Bushwick
The Bushwick based Yi Gallery evolved out of Cecilia Zhang Jalboukh's experience and vision. At its current form it shares space with The Border at 56 Bogart. Yi Gallery's founder elaborates on Annesta Le's current solo exhibition, shares with Art Spiel the genesis of Yi Gallery, as well as her vision for the space.
AS: You started Yi Gallery in 2018 as a pop-up-based venue and now, after you moved to Bushwick, you are sharing the space with The Border, alternating your shows every other month. Tell me a bit about yourself and your art initiatives.
CZJ: I wanted to open a gallery a long time ago but never felt ready. In 2018, my son was born. I went back to work when he was only three months old, so I had to pump breast milk. During those short pump breaks, I carried on the job, emails and reports. But there were a few sessions when the milk was not coming in as fast. Stressed about my milk production, sometimes I had to turn off the computer and try to relax in a hidden corner cubicle. That was when I started to write in my sketchbook notes and ideas of a gallery. Being a mom gave me the strength and confidence that I can start a business and build it from the ground up. I invited my wonderful artist friend Victoria Borisova to produce a pop-up show. Yi Gallery started with that first pop-up event. I also understood the importance of digital marketing and online growth from the very beginning. We joined Artsy as a gallery partner before we even had a physical location. Doing the pop-up shows was a great learning experience. As the program evolved, it became apparent that we need a space for more focused and longer-term exhibitions. When artist and curator Jamie Martinez invited me to share his The Border space at 56 Bogart Street, I was exhilarated. With a mission of "supporting, nurturing and showing talented immigrant artists and their siblings living in the United States along with a few locals," The Border organizes very engaging exhibitions and transforms the small space with each show. Jamie and I decided we will continue to operate under our own brands, alternating exhibitions every other month. We already have a few common friends but our larger communities have also started to come together in a meaningful way. Art is a poignant way to foster a strong sense of community, belonging, and excellence.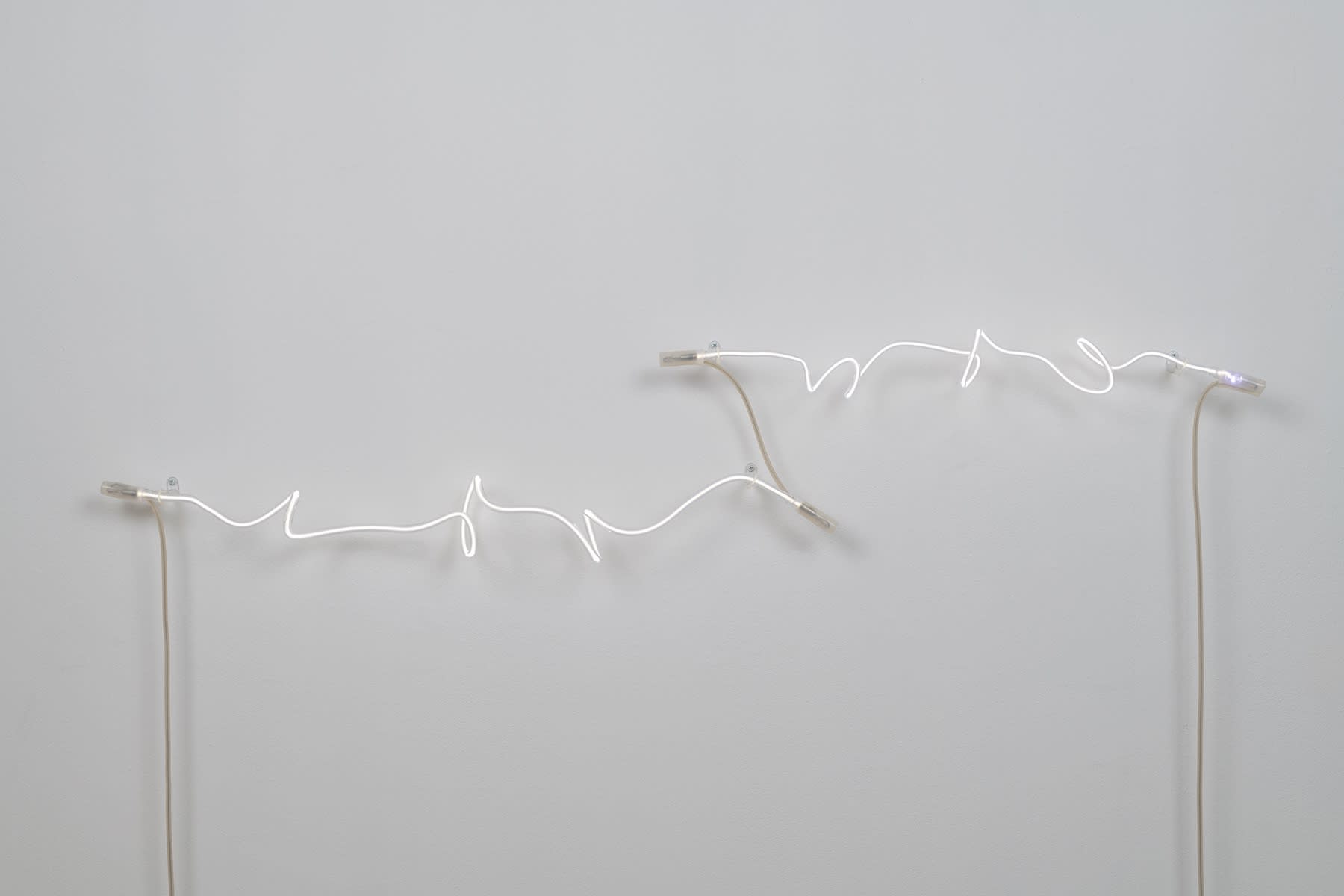 AS: Tell me about your exhibition on view, Inner Space, featuring Annesta Le's work.
CZJ: Brooklyn-based artist Annesta Le is showing her neon sculptures and drawings. The exhibition includes two of Le's previously unexhibited floating neon structures, alongside three marker drawings, and two neon on wood panels. Inspired by how light can affect an atmosphere and create a mood, Le utilizes neon in a non-pictorial way. She hand makes all her neon-related works at a glass studio here in Brooklyn and completes the compositions later in her studio. Krypton is rarely used in the retail application of neon, but Le uses the noble gas for its subtle and gentle aesthetic qualities. Glass, a hard yet fragile material, links to the psychological feeling of being exposed and vulnerable. Le forms tight and fluid angles while heating the glass tubes over the flame of a ribbon burner, and it becomes an extension of her limbs and thoughts.
AS: What is the premise behind the body of work in this show?
CZJ: This body of work alludes most directly to the human body. The abstract neon sculptures make indirect reference to the human body, its limbs, curves and imperfections. Also the sensuality of the human form in general. The drawings are figurative but non descriptive. Over the last two years, the artist went through a very dramatic physical change, which profoundly changed her relationship with her own body. This transformation is reflected through her body language and her artistic language – the way she bends the neon glass and the way her paint flows on paper. Whether sculpting, painting, or drawing, Le uses her hands and approaches each piece in an open-ended, improvisational way until arriving at the final composition – a work reflecting her own internal image. Underlying themes in her work are psychological and explore the Jungian ideas of the self, shadow, and individuation. These ideas helped her find power and self through her art.
AS: Let's take a closer look at a representative featured artwork in the show that you think reflects well the artist's sensibility and what would you like to share about it?
CZJ: Le chose a spare monochrome white palette for the exhibition. Two neon sculptural elements – Revealed No.1(2020) and Revealed No.2 (2020) – suspended from the ceiling illuminate the gallery space. They were created in the same workshop session. Their undulating and sensuously articulated forms, approximately five-and-a-half feet long and eight inches high, meander gently overhead and glow softly and ethereally. This is a great example of Le's organic approach to each piece. Her art is a reflection of her inner space captured in physical form. Her art is dynamic in its creation – an open, experimental, unpredictable method, balancing the intentional and unintentional.
AS: What is your vision for Yi Gallery?
CZJ: My longest experience in the art business before I started Yi Gallery was dealing prints and multiples. Sometimes the derivative works by blue-chip artists can fetch up very high prices. While it's wonderful to buy prints, it's limiting in my view. I think it's fundamentally a different experience when we engage with original artworks made by living artists responding to the times we live in. When I spoke with the collectors, many told me they are genuinely passionate about collecting but do not have access to original works by the established artists. What they often don't realize is that with the kind of budget they have for prints, they can also collect original and exciting works of superb quality by emerging artists. This way, the collectors also discover new talents and are able to support practicing artists. I believe in the enriching power of living with original art, be it painting, work on paper or multi-media installation.
At Yi Gallery we will continue to focus on a curatorially driven program. I'm never only attracted to one style of art or artists from a specific geographic region. I encourage our audience and collectors to keep an open mind as our artists evolve too. Whether you attend our exhibitions or collect with us (online & offline), I hope the art we present engages, provokes and inspires you.
Annesta Le / Inner Space
On view: January 10 – February 8, 2020
Friday 12 – 6pm & Saturday 1 – 6pm Other dates by appointment
Yi Gallery
56 Bogart Street, Brooklyn, NY 11206